You're invited to
EXPERIENCE EASTER AT CALVARY!
We want you and your family to worship with us this Easter at Calvary! No matter where you are on your journey with Christ,
you're invited to celebrate the love of Jesus and hope that comes from His resurrection.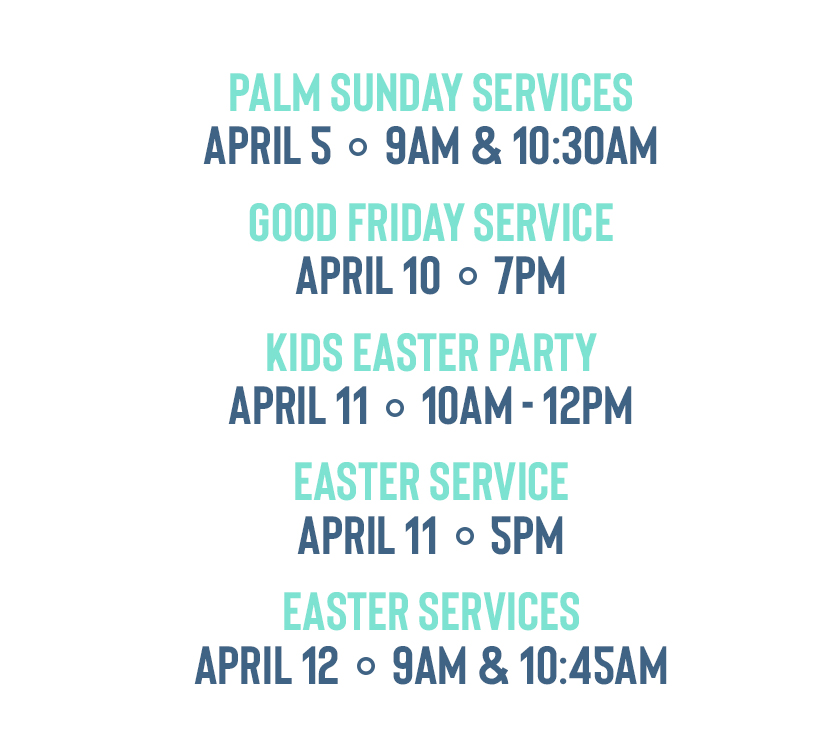 GOOD FRIDAY SERVICE
April 10 at 7pm
Hazel Dell Campus
During His six hours on the cross, Jesus spoke just seven times, as recorded in the Bible. During this solemn service, we look into those seven sayings and what they mean to us today. We will use music and spoken word in this memorable, family-friendly service to reflect on the sacrifice Christ made for us by giving His life. Before we leave, we will share Holy Communion together, obeying the scriptural call to proclaim the Lord's death until he comes.
Childcare is available for children in kindergarten and younger. Pre-register your child today to save time at check-in.
EASTER PARTY!
April 11 from 10am-12pm
Hazel Dell Campus
All kids through 5th grade are invited to come hang out with us on this morning! We will have snacks, games, crafts, face painting and more all for free! Everything is inside so no need to worry about the weather!
Pre-register your child today to save time at check-in.
EASTER SERVICES
April 11 at 5pm
April 12 at 9am & 10:45am
Hazel Dell Campus
The resurrection of Christ turned the most hopeless of days into a day of celebration and life. We invite you to celebrate the hope that was born the day Christ rose from the grave with us this Easter in a friendly, casual environment.
We have special Easter activities planned for your kids through 5th grade are available in our safe and secure kids area during all services. Following Sunday morning services, pick up your kids age 2 through 5th grade and head outside to the north of the building for an Egg Dash! Your kids will get to exchange the eggs they find for candy. Pre-register your child to save time at check-in.
---
---
WHAT TO EXPECT
We try our best to make you feel welcome and comfortable at Calvary. You will be met by greeters at the door who can give directions or answer any questions you may have.
You can expect to experience a time of corporate worship and praise and a pertinent, Bible-based sermon or message. You shouldn't feel obligated to do anything you're uncomfortable with during our services.
People attend Calvary wearing anything from three-piece suits to jeans. Come dressed comfortably, and you will fit right in.
Cafe 501 will be serving a variety of drinks, including specialty coffee, and snacks. Feel free to come early and grab your coffee before heading into the Sanctuary.
You are invited to our Welcome Center to meet some of our staff and get some more information about everything Calvary has going on for you and your family!

---
---
FOR YOUR KIDS
Your children will love attending Calvary with you! We provide a joyful, safe environment for your children, and our commitment to age-relevant ministry will have your child engaging in Bible lessons and activities that will meet them where they are.

Good Friday Service - Childcare available for children up through Kindergarten. This is a family-friendly service so we encourage your elementary children to sit with you.

Easter Party! - Bring your kids out for some free fun that includes snacks, games, crafts and much more! The Play Zone will also be open!

Easter Services - We have something special planned during all of our Easter services for your kids up through 5th grade! If you join us on Sunday morning, make sure to head outside to the north of the building after you pick up your kids for an Egg Dash!
Save time at check-in by pre-registering your child today. For more info on Calvary Kids, visit our kids page.


---
---