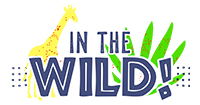 Vacation Bible School
Monday, July 8 - Friday, July 12
9am-12pm
Jefferson Street Campus
Free for kids age 3 through entering 6th grade
In The Wild!
This epic African adventure engages the whole herd! At VBS, kids will explore God's goodness and celebrate a ferocious faith that powers them through this wild life. Each day, we will travel through field-tested rotations that reinforce relevant Bible points and immerse kids in new, fun-filled adventures!


REGISTRATION
Click HERE to register!
We look forward to seeing your kid(s) at VBS!


Please note: We want to do all we can to welcome your children to VBS at Calvary Church. With the well-being of your children in mind, we want you to be aware that some of our activities, light effects, and music may be overstimulating to some children. If you have a child with special needs, please contact Pastor Tom at 217.546.9700. We will do our best to accommodate and make VBS a positive experience for all children.
VOLUNTEERS
Click here to register to volunteer.
DAILY HANDOUTS
VBS SONGS
Listen to all the songs your child has learned this week on Spotify! Search "Calvary Church Springfield VBS 2019."