HOLY WEEK
Palm Sunday through Resurrection Sunday is known to us as Holy Week. During this time in history, Jesus clearly proclaimed who He is and finished the final requirements to fulfill all of the law. For the sake of our faith, we should know the events that took place each day and consider what they mean to us.
Below you will find a brochure and videos to follow along with each day of Holy Week.
I encourage you to read through each day's note and scripture. Feel free to go through them on your own or with your family and friends. If you have children, this is the perfect time to step up as a spiritual leader in your home. Share your faith with your children. They should know your salvation story. If there is a Christian heritage in your family, share that as well. If not, tell them what you hope it will be in the future and express to them your desire for their faith. Spiritual talks should be natural in your home. Sharing needs and praying together should be a regular occurrence. Your eyes looking into their eyes, your voice ringing in their ears, your hands touching them in prayer, and your passion sparking passion in them are powerful to overcoming the temptations of the enemy. Be bold.
May this Holy Week be a time when your faith and relationship with Jesus deepens.
Pastor Mark
BROCHURE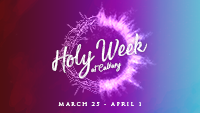 VIDEOS